Postcards collection
Both 'carte de visite' photographic cards and drawn and coloured picture postcards originated in the mid-nineteenth century and rose in popularity. Individuals would have a photographic portrait made into a postcard format by a photographer to send to family and friends. The average card size is 3 inches by 5 inches.
The RCN archive holds two main postcard collections: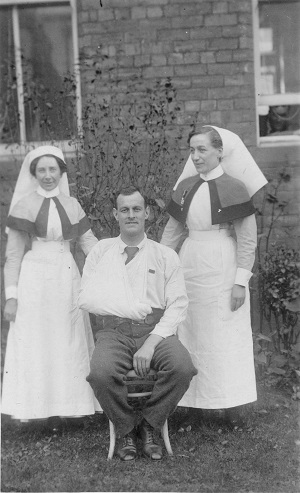 Francis Biley's postcard collection was bequeathed to the RCN archive in 2012.
This collection consists of 440 postcards, collected by Biley, dating from around 1914 to the 1940s. Many of the postcards depict First World War nursing images, while the remainder are of hospital exteriors, wards and nurses. Many of the postcards have also been used.
Francis Biley initially trained in mental health nursing. He went on to study for an undergraduate degree, and subsequently attained a Masters in nursing, a PhD, and a Postgraduate Diploma in Medical Humanities. In 1991, Biley left clinical practice and developed a highly successful and respected career as an academic.
Elizabeth Boardman was a postcard collector specialising in nursing and hospital related postcards, a collection which she bequeathed to the Royal College of Nursing Archives.
The Boardman collection contains 1061 nursing postcards consisting of portraits of nurses; First World War cartoons; interiors and exteriors of hospitals; military hospitals; overseas hospitals and fund-raising cards. Some of the cards are unused, but many have been written on and are postmarked and have stamps attached.